Touchup services will save significantly over the cost of complete refinishing. In many cases, even severe gouges and scratches can be repaired to nearly invisible. In addition, since this service can be performed at your location, the expense and inconvenience of moving the items out is eliminated. Best of all, there is no waiting for days or weeks to have your item returned.
On site touchup work requires a different set of skills than refinishing and we must advise you on a case by case basis about what we can do.
In Touchup work, the existing finish is not removed, but typically it is leveled and/or filled with the appropriate filler. Then color and a faux grain may be added before a finish is applied.
Touchup services are not a substitute for refinishing when items are overall severely worn or damaged, but it is the perfect solution for finishes in fair condition that have just suffered isolated wear and tear damage.
AHM Offers complete on site touchup and repair services in the upstate- capital district area of NY.
Our onsite touchup services are of particular benefit in repairing the kind of damage often suffered after heavy use or abuse, accidents or handling during moves.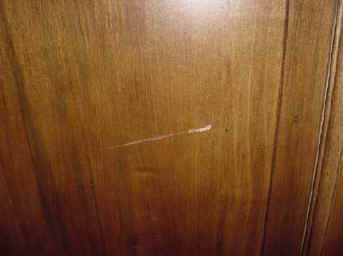 Before condition above: Dent and gouge in armoire door before repair. Done in the home.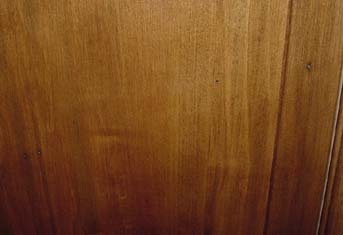 After: The area is filled and the grain was recreated to match and then a finish sealer is applied.